Bruges is a city that you can visit many times, always with new things to see and experience. The World Heritage status is well-earned.
Before the trip I saw the wonderful movie In Bruges from 2008 with Colin Farrell, Brendan Gleeson and Ralph Fiennes an absolutely superb black comedy. The picture was completely filmed in Bruges as an amazing backdrop to the story. In the week-end the one hours train ride from Brussels only costs around 14€ return. This time I used one of the many prepared walks to explore Bruges ( Cityguide Bruges ).
From the train station it is just a short walk and you are inside the old part of Bruges.
This walk takes you along world-famous panoramic views, sky-high monuments and centuries-old squares invigorated by contemporary constructions. One foot planted in the Middle Ages, the other one firmly planted in the present. You find a more detailed description of this walk in the brochure mentioned above.
The Minnewater is reached after a couple of minutes' walk and used to be the landing stage of the barges or track boats which provided a regular connection between Bruges and Ghent. Today it is one of Bruges' most romantic beauty spots. Equally atmospheric, yet of a totally different nature, is the Beguinage. These were various lay sisterhoods of the Roman Catholic Church founded in the 13th century in the Low Countries, comprising religious women who sought to serve God without retiring from the world. It is no longer occupied by beguines, but by nuns of the Order of Saint Benedict, you can still form an excellent picture of what daily life looked like in the 17th century. A couple of blocks away two nice old Almshouses can be seen. Bruges counts 46 Almshouses (called "godshuizen" in Dutch) in the centre of the city. These houses were built out of social consideration. They were mainly destined for seniors and poor people.  These white Almshouses were built by rich families so single women or poor people had a place to live. In return for the use of these houses these people had to pray for the rich family every day. You might even say that these rich families bought their way in to heaven. On the way to city heart you pass De Halve Maan established 1546, a small family owned brewery only one operating in Bruges city and is open for a short tour and beer tasting.  Before the traditional centre is reached a visit to Bruges' most renowned museum the Groeninge Museum is a must. On display are world-famous masterpieces by Jan van Eyck, Hans Memling and many other Flemish Primitives.
Soon the more traditional attractions can be visited like Rozenhoedkaai, a popular photo spot, yes the swans are still there and of course the impressive Burg and Markt place.
Markt is dominated by its Belfry, for centuries the city's foremost edifice and the perfect look-out in case of war, fire or any other calamity. You can still climb to the top of the tower! Your climb up the Belfry's 366 steps will be rewarded with an unforgettable panoramic view. There is usually a long queue during the week ends to get in.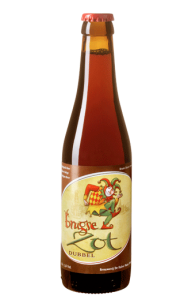 Beer: Brugse Zot 6%, one of De Halve Maan's brews. Zot means fool and it was a nickname for the people living in Bruges. On its label you find a jester. The palate is a little bit spicy with bitterness in its ending. Not really to my taste but drinkable.
Coming weeks:
EU continued
In search for the best beer (an on-going quest for the perfect pint)
More seafood
Cheese
Parks
Culture, Comics
Markets
Politics
Facts of the week;
Drink; Brugse Zot 6%
Location; City walk Bruges
POI: see city walk above