Week 1 a curious Swede arrives to Brussels
After a 12 hour quite uneventful journey we arrived to the capital of EU late Thursday evening. However there are some fringe benefits attached to a drive like this through parts of Europe, like a visit to the Border Shop. Unfortunately, with a car loaded up to the roof, it was not so much space left, another time maybe.
We (me and my spouse) hit the evening traffic in the right direction so we managed, with the help of Garmin, to find the direct route to our hotel quite easily. We passed the EU buildings along Rue de la Loi or Wetstraat. Brussels is bilingual, as all of you probably know French and Dutch. With a population of 1,8 million it is the biggest city in Belgium. Brussels is today mostly French speaking but that was not the case 200 years ago when Dutch was primarily spoken. There are three federal regions in Belgium, Brussels being one of them; the others are Flanders and Wallonia. The EU invasion and the vast amounts of huge constructions have had quite a disturbing effect on Brussels skyline. The mix of new modern office buildings together with older architecture is not always so pleasant to look at. Brusselization it is called after the 60/70's brutal exploration of downtown Brussels.
In these weekly reports, I will try to give you a feeling of how an expat life could look like including, the ups and downs that comes with the territory.
So it will include food and beer of course, but also some ideas on what you can experience during a visit to the center of EU. Our interest is also closely related to nature and therefore we will explore everything green here. All the surroundings will be explored as well and give you suggestions for week-end trips. Maybe a guidebook will come out of this, who knows.
Part One: where to live?
There are quite a lot to choose between, but a 2-bedroom apartment is not so easy to find. This because the houses here are quite narrow, around three windows wide which equals about six m. So you can understand, there is not so much space left for a second bedroom. Reason being that before EU came to Brussels the city was quite poor and people couldn't afford building big houses. One guy I met today bought his town house 20 years ago for 80,000€. Today it is worth well over 1 million- I will come back to this guy later.
There are 19 municipalities in Brussels and we have decided, with some help, to look for an apartment in the Ixelles area. This is quite close to the EU community, which makes it convenient for me to walk to business meetings.
Internet search and contact with some real estate agencies was the first assignment on Friday. We also decided to walk around and get the feeling for the community, the restaurants', shops and bars.
Ten years ago we lived abroad in London among other places, where it was much more expensive than Brussels, almost the double. People however, are now taking advantage of the fact that 27 EU member states are sending people down on a regular base. This creates a huge demand for accommodation short/long term of course. The business is following as well, like Business Security, creating a huge opportunity for all the basic needs for these people and organizations. The city is a big melting pot with some similarities to New York. I said some. New York is still one of my favorite cities. Brussels has a long way to go, but you never know what will become of this big experiment called EU.
We are staying at the Thon Parnasse, which is an apartment hotel just opposite the EU parliament. In addition there is a train station, Luxembourg outside, that has trains going in and out of the city. There is as well an underground network to explore, however the nearest station is a bit further away.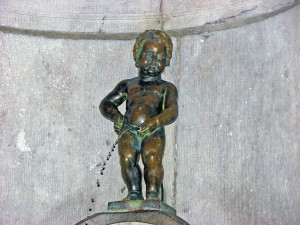 A walk downtown to Manneken Pis was on the agenda. This little bronze statue by Jerome Duquesnoy was put in place for almost 400 years ago.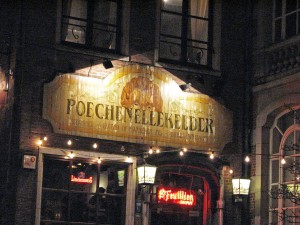 Just opposite we stumbled into a "real" Belgian beer place Poechenellekelder where I had my first Trappist beer, during this trip, a Rochefort 6.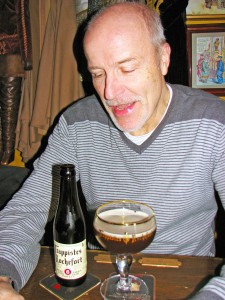 It is quite nice with a soft taste and not too heavy or too strong. I will get back to this "monky" business with the beer later.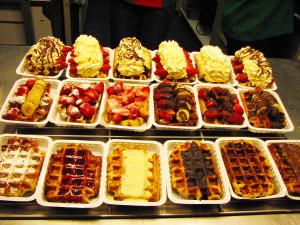 I almost forgot of course a Belgian Waffle was tested, very nice.
Okay folks, that is all for this time. There will be more to come. Watch this space!
Anders
Next week:
Did we find an apartment?
What is the hash like in Brussels?
Coming weeks:
In search for the perfect beer
Pommes frites, what is it all about really
Brussels – a green city?
Facts of the week;
Drink; Trappistes Rochefort 6 (7,5%) brown beer
Food; Belgian waffles (of course)
Location; Poechenellekelder (5 Rue du Chêne/Eikstraat) is a good start to explore Belgian beers . Check the walls and ceiling decorations, can't be described must be experienced.
Point Of Interest: Manneken Pis (You must have seen it)