Week 2 Moving in
It has been a very hectic week. Real estate's agencies have been filling my mailbox with everything they have, although I explicitly told them what I was looking for. Quite early, we found a beautiful flat, a spacious duplex in Etterbeek. This area is very nice and quiet residential area (as far as we know).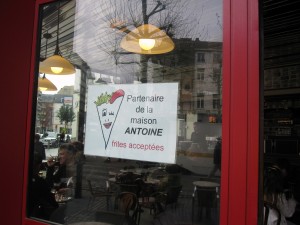 It is close to Place Jourdan, but not too close, so you avoid the pommes frites "fragrance" that is covering the area. I come back to Maison Antoine  and his frites later.
You can never imagine what happened recently guess what; Belgian beer (Westvleteren 12) lost its number one position in the international beer ranking.  Topping the list is a Swedish beer from Närke of all places.
Read more: http://www.ratebeer.com/RateBeerBest/bestbeers_012011.asp
Part Two: getting settled
Finally we could move out from the hotel and into what now will be our home over the next year.  We found it by coincidence when we were looking at some other apartments in the Ixelles area and went into a small real estate agency at Avenue Louise.
Our landlord owns a couple of other houses in the area and was happy to find a new tenant quite quickly. Although he preferred a lease for two years we agreed on one year. After that it went quite smooth. Two month deposit locked in a special deposit account in my name and one month rent in advance plus the consumption fees and I got the keys. Friday we found our way to IKEA (where else) and got all the basic stuff like bed linen, towels, some blankets etc. It is nice to have new, not used things when you move into a furnished apartment. The IKEA experience was like always crowded, but organized as all the other shops and we easily found what we were looking for. The lunch there was surprisingly awful and disappointing. The Swedish food section by the way includes IKEA snaps!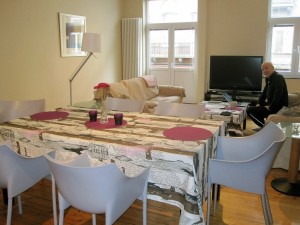 On Saturday we had the mandatory inventory prepared by an independent consultant. It was a quick procedure done by a nice guy who actually spent 3 months in Landskrona, Sweden of all places (I grew up there). It is a small world.
Close by our apartment is a Lidl and a Colruyt, a German and a Belgian discount chain of supermarkets, conveniently for our basic daily needs. Pricing is lower for beer and wine of course, but also for meat. Other items are more expensive. We bought some steaks that were very tender and of high quality.
In the area there are many small stores and lots of pharmacies for some reason. In Sweden pharmacies have now been privatized so we will most likely also have more of them, I guess.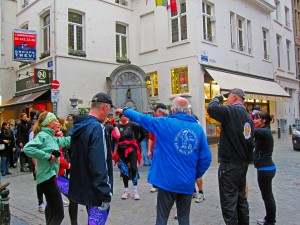 Last week we participated in our first Belgian hash. For those who don't know what this is check out their homepage http://www.bmph3.com/ or our Swedish site http://www.hash.se/ .
The track started at Square de Meeûse, right outside the Swedish Permanent Representation to EU. What a coincidence! It turned out that one of the hashers was working there. The route was quite long around 12K, but offered a nice sight-seeing run through the center of Brussels. It included one mandatory beer stop!  We also did a FA at Manneken Pis together with all tourists (FA=Father Abraham)
Afterwards we had the traditional circle with beer and singing. Hashers are in general nice people. This is perfect when you come to a new place and need some help. Usually they are expats whom have been working in the city for a couple of years and knows their way around.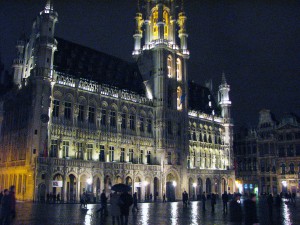 So what else, some sightseeing were done, like Grand Place (Grote Markt), which is a beautiful old square and a World Heritage site (UNESCO). It is 68×110 m big and surrounded by old beautiful buildings like the City Town Hall. The hall was built during the first half of 1400 with a 96 m tall tower, which can be seen all over Brussels. The square is a typical old open-air market place from 11th century, which later grew into what is now Brussels.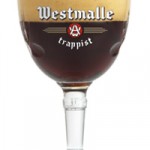 The beer tasting continued this week. This time with another trappist beer Westmalle dubbel, although very dark brown it is surprisingly light in its taste with a creamy head. It has a second fermentation in the bottle. The taste is somewhat dry but in a pleasant way.
Coming weeks:
Working in Brussels
EU
Pommes Frites, what is it all about, really?
Parking
More hashing
In search for the best beer (an ongoing quest for the perfect pint)
Moules and other seafood
Is Brussels a green city?
Facts of the week;
Drink; Trappist Westmalle dubbel (7%) dark brown beer
Food; A beef (tournedos), high quality meat is served here
Location; Our neighborhood Place Jourdan, a place to whiff!
Point Of Interest: The grandeur of Grand Place!