After a rainy and not so warm week Saturday came and turned out quite well with summer temperatures once again. The weekend was dedicated to the Stripfeest which means comic party or festival and nothing else. Balloon parades, music and a lot of comics everywhere.
This was a perfect opportunity to find out more about Belgian comics. In the old market hall at Saint Gery Place I found several of the new and upcoming comic artists presenting their work and signing autographs for their fans. Comics are big in Belgium and have a long tradition.
Belgian comics are a distinct subgroup in the comics' history and played a major role in the development of European comics alongside France.  In the comics field Belgium has excelled and has had an international and enduring impact in the twentieth century. Today comics are known to be "an integral part of Belgian culture".
In 1929 a young artist Georges Remi (better known as Hergé) launched a new series in a supplement in a catholic newspaper: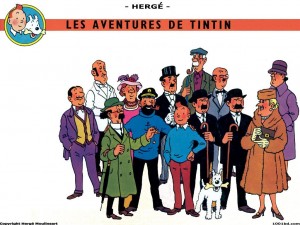 The Adventures of Tintin which soon became a huge success. It was initially influenced by the work of French and American comics but Hergé soon developed his own style. It would become the prototype for many Belgian comics to come; use of speech balloons was also innovative and trendsetting. While Tintin was very popular, it would take almost a decade before the next successful comics magazine would appear.
It was very crowded in the city this weekend and the police took the opportunity to show off its latest talents.
The Inline Skating Patrol is being deployed on the streets to give the police a more public profile, but for the citizens they are paid to protect, the skaters are more a source of amusement than ressurance. However, once the novelty wears off, the authorities insist the community will feel the benefits.
I had a very good lunch this week at Brassiere Mariadal in Zaventem. The restaurant is a modern brassiere accommodated in a nice manor house surrounded by a lake and a public park. It has a stylish decor, a conservatory and a nice terrace. This is definitely good value for money.
On the beer menu this week I have Leffe 9. A typical Belgian strong ale, top-fermenting beer with a deep golden colour. It has quite rich taste but with some hint of alcohol, OK but nothing more.
Coming weeks:
EU continued
In search for the best beer (an on-going quest for the perfect pint)
More seafood
Cheese
Parks
Culture, Comics
Markets
Politics
Facts of the week;
Drink; Leffe 9, 9%
Location: Brasserie Mariadal, http://www.brasseriemariadal.be/