With temperatures over 22 degrees on Saturday it felt quite good to be in Brussels and experience spring a little bit earlier than in Sweden. Most times when you come in with taxi from the airport, you will notice a large arch before you disappear in the Belliard tunnel.
So I decided to have a closer look and walked up to Parc du Cinquantenaire (a little bit difficult to pronounce but it means park of the Fiftieth Anniversary) or Jubelpark, in the easternmost part of the European Quarters. This is a large classical garden and has very symmetrical paths, a haven of peace in the midst of the noisy traffic, houses a lot of treasures: the Big Mosque, Islamic centre of Brussels, the statue of the green dog and the Pavilion of human passions by Victor Horta. The museums of Art and History, Aviation, the Army and Military History, the Royal Institute of Art Heritage and the World Palace of the Automobile are housed in the buildings.
Most houses, of the U-shaped complex which dominate the park, were built for the 1880 National Exhibition. The centerpiece triumphal arch was erected in 1905. The surrounding 30 hectare park esplanade was at that time full of picturesque gardens, ponds and waterfalls. It housed several trade fairs, exhibitions and festivals at the beginning of the century.  There are now talks about re-building it once again to hold large events like European Summits, trade shows and festivities.
The Brussels restaurant scene is a lively mix of haute cuisine, robust Belgian favorites, and food from all over the world. The top Brussels restaurants rival the best Parisian restaurants; so, alas, do the prices. But one of the joys of the city is the quality and value of its smaller, neighborhood restaurants. You'll find everything from tapas bars to African buffets, as well as excellent and affordable bistros and plenty of good Vietnamese, Italian, and Portuguese restaurants.  And, of course, at almost any hour, you can grab tasty double-fried frites with mayonnaise for dipping from mobile frituurs around the city.
Now it was time for moules frites and I decided to visit Chez Leon.
This more than a century old, very jovial restaurant has expanded over the years into a row of eight old houses, while its franchises can now be found across Belgium and even in Paris. However this is the original and while it's huge and looks like a tourist trap, the moules are excellent and it's packed every day.  It's a reliable choice on the restaurant-lined rue des Bouchers. A smaller portion only costs 13€ with frites and a beer, not too bad.
Not very far from last week's bar you will find another classic bar A La Mort Subite.
The staff watches over the rows of tables with a practised aloofness, while customers sit on uncomfortable bench seats. For exploration, test  Gueuze Sur Lie,  yes the brand name is Mort Subite just like the name of the bar. Mort subite means "sudden death"  it comes from playing darts and the last round before people broke up was called just that.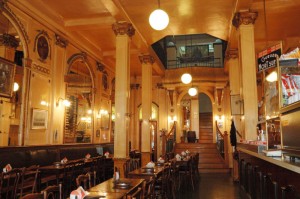 Lambic is a very distinctive type of beer brewed only in the Pajottenland region of Belgium and in Brussels itself at the Cantillon Brewery. Is the most wine-like beer produced anywhere in the world. An acquired, but very sophisticated taste, and unlike conventional ales/lagers, lambic beer is produced by spontaneous fermentation: it is exposed to the wild yeasts and bacteria. It is this unusual process which gives the beer its distinctive flavour: dry, vinous, and cidery, usually with a sour aftertaste.  Lambic is now mainly consumed after refermentation, resulting in derived beers such as Gueuze or Kriek. More recently, some lambic brewers have added sugar to the final product of their fruit beers, in order to make them less intense.
Gueuze is the traditional way that you will find lambic served. It is made by blending older lambic that has a been aging in barrels for many years with a livelier younger lambic. The old lambic has a complexity and depth of flavour but is usually flat while the young lambic gives the beer its fizz. You can expect the beers to be dry, sour and somewhat fruity with a complex range of flavours and each brewer has its own distinct taste. Mort Subite feels like a refreshing cider maybe my wife would enjoy it better than I did.  I felt it too sourly for my taste. Gueuze Sur Lie has been fermented after bottling for at least 1 year.
The unblended lambics can be mixed with wheat beers (weissbier/witbier). This has been done with the Mort Subite White Lambic it is light and refreshing which makes a good candidate for a hot day and this one was more in my taste.
Coming weeks:
EU continued
In search for the best beer (an ongoing quest for the perfect pint)
More seafood
Cheese
The Blue Forrest
Parks
Culture
Markets
Politics
Facts of the week;
Drink;  Mort Subite Gueuze sur lie (4,5%), Mort Subite Lambic blanche (4,2%)
Food ; Moules Frites
Location; A La Mort Subite, 7 Rue Montagne aux Herbes Potagères,Chez Leon, Beenhouwersstraat 18
Point Of Interest: Parc du Cinquantenaire