It is nice to have guests and to revisit places like Bruges. The sixty minutes train ride from Brussels takes you into one of the  most popular tourist attractions in Belgium. Everything is within walking distance from the railway station.
A short walk takes you to the Minnewater which used to be the landing stage of the barges or track boats that provided a regular connection between Bruges and Ghent. Today it is one of Bruges' most romantic beauty spots.
Equally atmospheric, yet of a totally different nature, is the Beguinage. Although the 'Princely Beguinage Ten Wijngaarde', founded in 1245, is no longer occupied by beguines, but by nuns of the Order of Saint Benedict, you can still form an excellent picture of what daily life looked like in the 17th century.
Not far from Begijnhof is the only brewery in Bruges citycenter the well-known Halve Maan. They have a nice tour which gives an interesting insight to the brewery.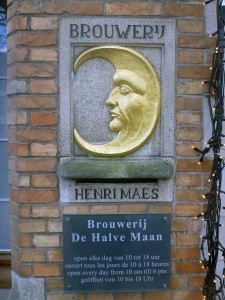 Brewery 'De Halve Maan' (The Half Moon) can go back on a very long history. Already in 1564 the town register mentions the existence of the brewery 'Die Maene' (The Moon) on the Walplein.
In 1856 Leon Maes, also known as Henri I, becomes owner of the property. After Henri I's death in 1867, his sons Henri II and Achère took over the brewery. During the industrial revolution Henri went to England to learn about the newest technologies in order to be able to apply it in Bruges. He built an English maltery and kiln and started brewing 'English-style' beers such as stout and pale-ale.
Through the other family members Henri III and IV the brewery continue to develop. The daughter of Henri IV Veronique took over in the 80's and she launched a new beer. The beer was a bit stronger than others and that is why it got the appropriated name of 'Straffe Hendrik' (Strong Henri). In 2005 her son took over and revived the brewery significantly and launched the award winning Brugse Zot.
After a taste of the beers I suggest a strol a couple of blocks to have a closer look at the famous Almshouses.
These 14th-century dwellings were charitable institutions, sometimes set
up by the guilds to lodge their elderly members, sometimes set up by
widows or well-to-do burghers who wanted to ensure their place in
heaven. For that purpose, each set of almshouses had its own chapel where
the occupants of the almshouses would be expected to send their
prayers of thanks up to heaven.
The walk continues towards Markt and Burg square and on the way you pass this magnificent building.
The former Hospital of Saint John (13th-14th century) has a proud eight century-long history. The oldest documents even date back to the 12th century! Here nuns and monks took good care of pilgrims, travellers and the sick.
Burg is the most majestic square in the city. So, take your time to admire its grandeur. The main building is the City Hall  (1376-1420), one of the oldest city halls in the BeNeLux area.
There are plenty of restaurants and bars, we had a bite at Maximilian van Oostenrijk (Wijngaardplein 16). A wonderful restaurant with good service and food. I had Waterzooi with chicken. It is a traditional dish from Flanders. A stew made of fish or chicken, vegetables including carrots, leeks and potatoes, herbs, eggs, cream and butter.
I have already tasted the beers from de Halve Maan brewery.
Instead I go for a Tripel Karmeliet 8% an Abbey tripel from Bosteels brewery, a blond and rather smooth taste. It is a really nice and well balanced tripel experience.
In addition to this testing why not try Judas 8% from Alken-Maes (Heineken brewery). This is a Belgian strong ale with a sweet and  slightly bittery taste. It is quite good and much better then expected from a big brewery like Heineken.
Coming weeks:
•    EU continued
•    In search for the best beer (an on-going quest for the perfect pint)
•    More seafood
•    Cheese
•    Parks
•    Culture, Comics
•    Markets
•    Politics
Facts of the week;
Drink;   Tripel Karmeliet 8%, Judas 8%
Food: Waterzooi chicken
Location; De Halve Maan brewery, Maximilian van Oostenrijk Restaurant (Bruges)

POI: Begijnhof, Minnewater, St Johns Hospital (Bruges)